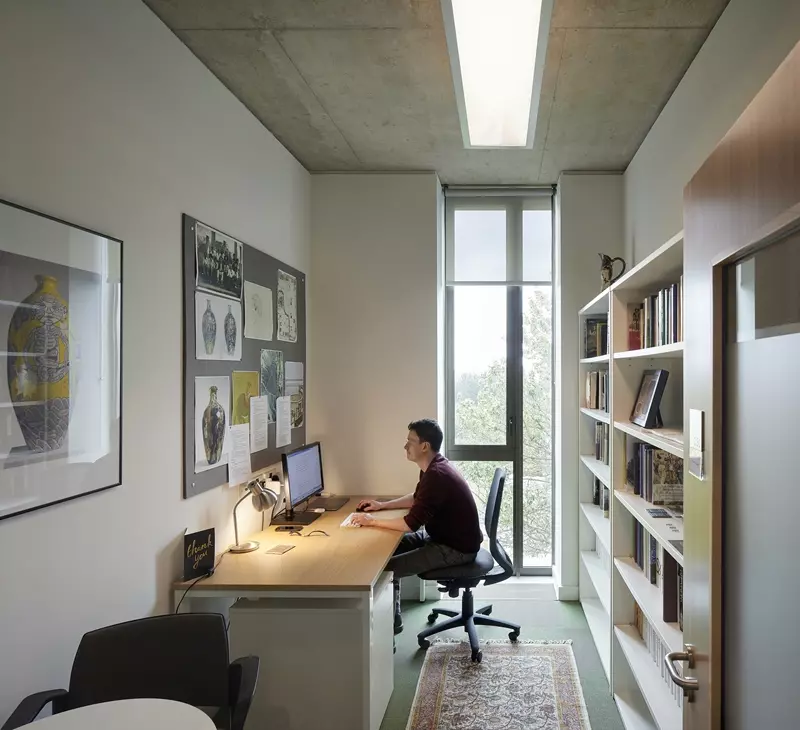 "When planning goes well, good buildings are truly transformational, both for the university as a whole and the people who work and study in them." Pinder et al, 'The case for new academic workspaces, 2009.
Traditionally, academics would be offered a single occupancy office. It would be their library, with books and papers at hand, suitable for intense, individual concentrated work, and meeting room for small group tutorials, or confidential conversations. More junior staff, or postgraduate researchers might typically share an office, and administrative staff work in shared spaces. As such, an office has an element of status attached to it. As in life, in the Higher Education sector, change is inevitable, and future flexibility is key. Recent issues in workplace design have included the recognition of the importance of workplace wellbeing, the post-pandemic shift to increased hybrid working and studying plus the parallel developments in IT that have enabled these.
Like commercial workspaces, universities are moving towards more collaborative environments. The case for new academic workspaces was outlined in a 2009 article by Pinder et al and they have been adopted – in various forms and with various levels of success widely since then.
The move away from individually allocated offices for teaching and research fellows has a number of drivers including: including: encouraging collaboration/ knowledge exchange, the cost of space, cultural change, the carbon considerations of creating many cellular rooms, student requirements for teaching – in small groups or individually, student experience and safeguarding. Our role is to manage the tension between these requirements, taking into account the current and future requirements of the universities we design for.
For the university estate departments, space utilisation is a vital metric, and the challenge to create a 'sticky campus' is real. For the staff, it is vital that they have spaces which can be used effectively for research, teaching, concentration and collaboration . How academic workspaces are provided – be it single occupancy offices for all academic staff, or a more open plan or shared office arrangement - impacts not only how people will work in the future and the quality of their work, but also staff retention and student relationships.
Pinder et all point out that 'efforts to reduce workspace costs will be counter-productive if they have a negative impact on the ability of lecturers and researchers to work effectively.'
We look at three recent FCBStudios Higher Education buildings where we have approached academic workspaces differently, responding to client and user consultation, and the current and future culture of each institution.
The University of Warwick Faculty of Arts Building
The seven departments of the Faculty of Arts at Warwick University were brought together with the explicit intention to increase collaboration and cross pollination of ideas between academics, researchers, students and disciplines.
We visited the buildings across campus at the early stages of the project, and one experience that stuck in the mind was that of walking along a 100m corridor of office doors. With no natural light, and a tendency for all the doors to be shut, this felt alienating and disorienting.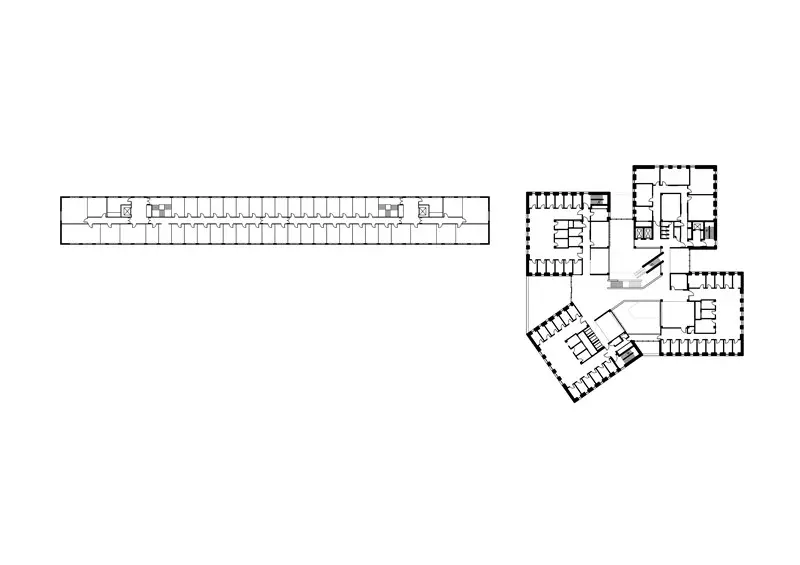 For the new Faculty Building, we pursued the concept of the academic studio, made up of a variety of workspace typologies clustered together in one or more quadrant of the floorplate per department.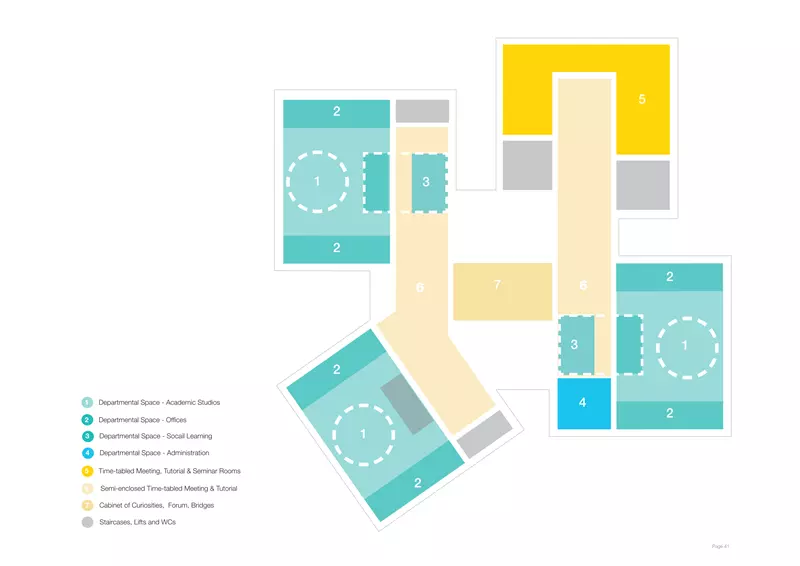 Individual offices are grouped around a shared 'Academic Studio' an open space with a mix of reading room style shared desks and informal breakout seating. The academic studio provides a focus for gathering within each department. It is supplemented by cellular meeting rooms, open tutorial spaces and informal workspace for students within immediate proximity. Such spaces build upon the sense of belonging and departmental identity felt across the Faculty.
Consultation highlighted that contact with academics is prized by students, but that does not require all academics to be accessible by all. Close at hand is a wide variety of available spaces for meeting / tutorials / seminars at different sizes. Some areas of the department are open to all, others have controlled access, and university wide booking system gives access to other spaces.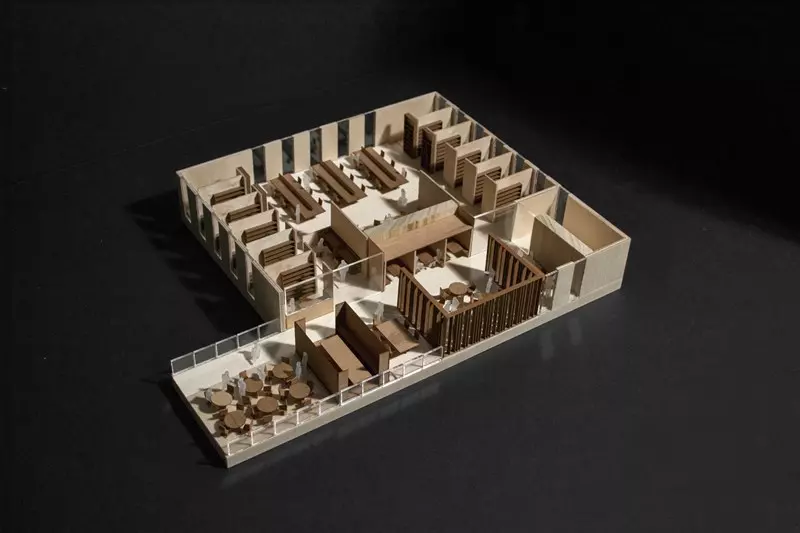 This corridor-free cluster model frees up space that would have been taken up by circulation – to be incorporated into the clusters as breakout and meeting space and gives the Faculty the flexibility to adapt to changes in its workspace requirements. It also reduced the number of partition walls resulting in a significant carbon saving. Full length windows bring light and air into the cluster for all, and the compact nature of the Studio arrangement gives clear wayfinding.
The academic studios offer a platform for the departments to be separate in their own way and to express and further develop their own individual culture. You are welcomed to the Classics department by an antiquities room and a changing exhibition of ancient artefacts. Film and TV has a visible equipment library and collection of historic equipment on show. Locating the academic staff of the department together has increased the feeling of identity within each department.
Ulster University Belfast Campus
The Ulster University Jordanstown Campus, a 1970s campus where every academic had a generous individual office, influenced the brief for the new Belfast Campus. All academics were to have individual offices. The Estates Department and senior leadership team, however, were concerned about the negative impact this would have on a University campus striving to encourage collaboration, flexibility and high quality environments.
During consultation we used drawings and models to illustrate the impact of adopting individual offices for 100% of the academic staff. Within the city centre campus it would have negatively impacted the quality of daylighting and navigation; social interaction and collaboration; carbon out put and flexibility. As a once in a lifetime investment for the University these issues needed to be successfully addressed.
A balance was achieved by demonstrating that a maximum of 60% individual offices could be achieved while still creating high quality spaces. Office clusters of between five and eight desks, each associated with its own six person meeting room made up the remainder. The desk spaces are the same size as the individual offices and each has its own bookshelves, but the overall effect is that of a light and airy collaborative cluster.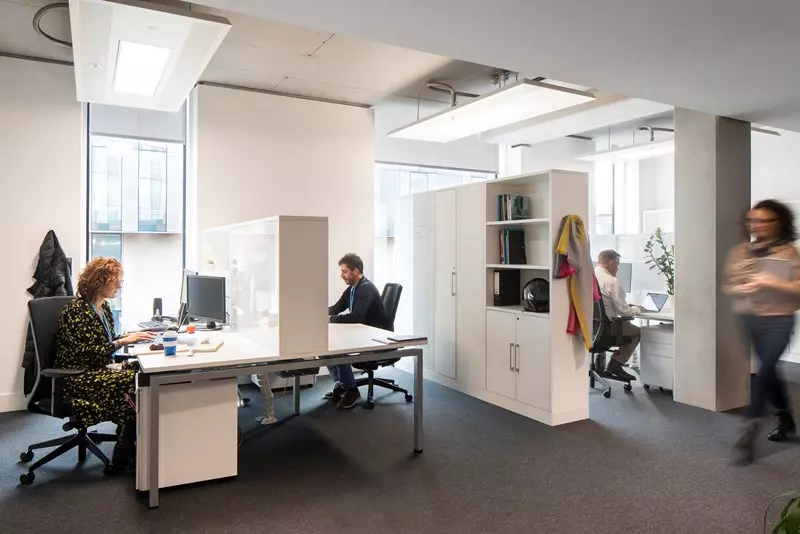 The layouts vary between faculties. Computing and Engineering has more office clusters, reflecting a more collaborative mode of working, the Ulster Business School maximised the percentage of single offices. We also found that younger people preferred the office clusters, and older preferred a cellular office. Having a mix of provision enables flexibility to suit evolving needs.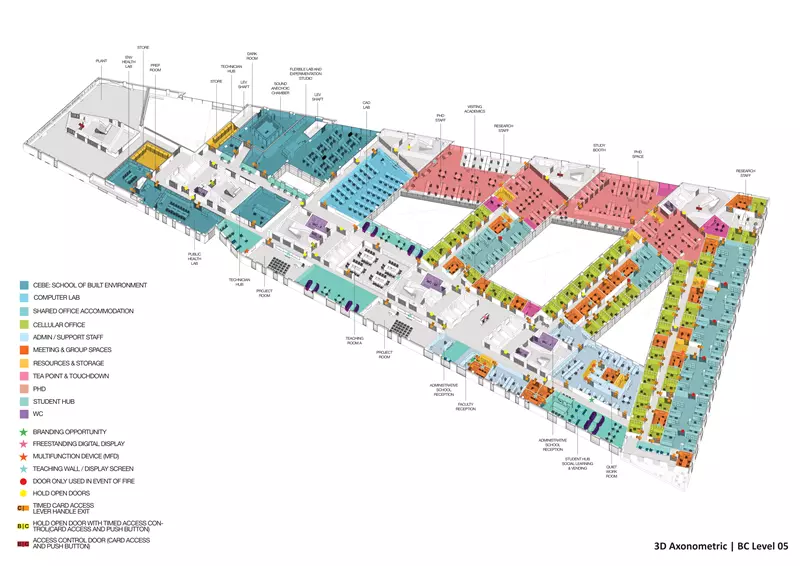 Faculty and administrative offices are organised around department receptions, with meeting rooms, conventional and shared offices and the ever-present kitchenette. The reception to each department has been enlarged as 'Student hubs' - informal seating areas where academics staff and students congregate. These are the places where friendships and collaborations are formed.
Since the building opened, we are finding that people are happy with their spaces. As behaviours continue to change post pandemic, the University will learn how to use its new spaces flexible, as Higher Education continues to evolve.
School of Digital Arts, Manchester Metropolitan University
The directive from the School of Digital Art's Head of Department was to make the academics more accessible to students and other staff, rather than retreating to an office or staff room. To take them, "out of their comfort zone". In conjunction with this there was a desire to maximise learning spaces and an acknowledgement that the space required for traditional academic workspace was disproportionately large.
The original brief for the building included three times the delivered area for academic offices. However, with changing approaches to work and an increase in flexible working– which have been exaggerated post pandemic – a more flexible approach to academic workspaces made it possible to give this area back to spaces for education. In place of the additional staff area, three extra studios were created offering sought after motion capture and VR facilities.
The academic workspace is located on the third floor and provides an open plan working environment for the faculty staff. The space offers a multitude of flexible workspaces, ranging from singular workstations to larger areas for group discussions and meetings. A glazed partition provides an important visual link to the adjacent 'village green', a social learning area in the centre of the floor meant as a hub for student activity.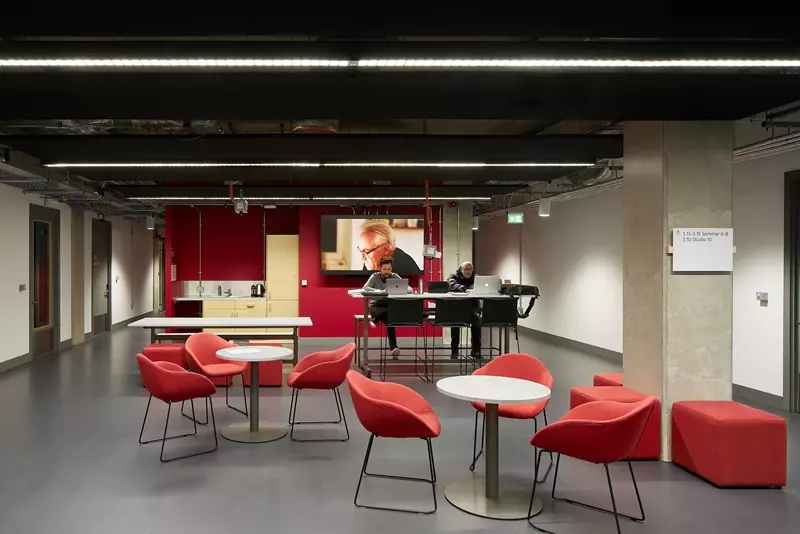 The lack of partitions allows the space to retain an overall feeling of accessibility and shelving plays a dual role: as storage, but also to divide up the space and strategically shield some areas from view. In response to consultation, a small number of individual offices were provided for the use of professors. However, these types of spaces are often unoccupied. In order to maximise teaching areas these spaces also double up as flexible meeting rooms. To facilitate this, all have lockable storage for users to safely store equipment and are part of the central room booking system.
The whole building is designed with communication at its heart. Different size spaces encourage collaboration of all kinds and always provide a place to talk.
What we have found is that the cellular offices provided are now predominantly used as student meeting rooms and do not remain as locked, empty academic offices. Staff tend to use not only the main staff area, but often spill out into the village green. A pull factor for this is that we also moved the coffee making facilities into the village green area – encouraging a more social way of working and putting the academics in a communal space where they are available to students.
Ref: Pinder et al, The case for new academic workspaces, 2009.
Images
1 . An academic office at University of Warwick Faculty of Arts Building, part of a mixed strategy of supplying workspaces for faculty staff.
2 . Departmental floor plans for the Faculty of Arts Building
3 . One of a number of models made for consultation showing different options for the academic studios
4 . Academic offices shared between 5 and 8 staff at Ulster University are naturally daylight, and encourage collaboration
5 . Floorplan showing the range of office and faculty provision at Ulster University
6 . Faculty staff tend to spill out of the academic workspace at SODA in favour of the village green - with its open conversations and coffee machine.