Imagine you are in a Forest…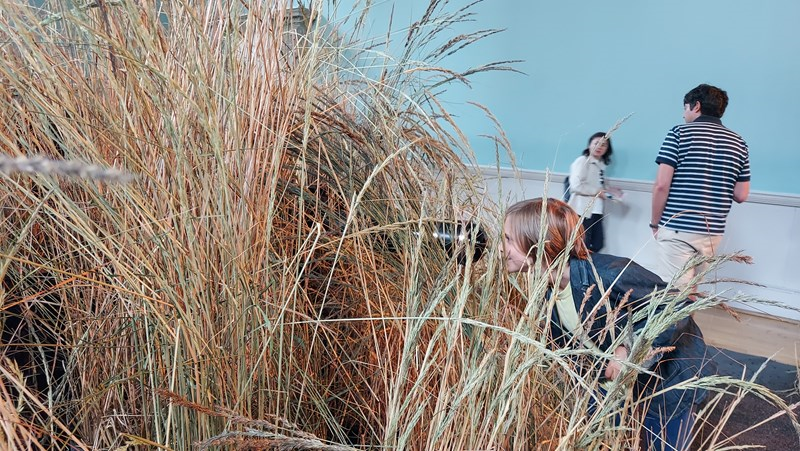 That's exactly what Peter Clegg, Andrew Grant and Penny Hay did 10 years ago, resulting in Forest of Imagination, an annual celebration of creativity, nature and education.
Feilden Clegg Bradley Studios, Grant Associates and House of Imagination in partnership with Bath Spa University come together annually to create the inspired Forest of Imagination festival. Each year, a familiar space in Bath is reimagined by an ever-growing collective of artists and creative professionals to highlight the importance of nature and imagination in all our lives.
Talking about the inspiration behind the festival, Peter Clegg said "An in-depth study by the World Economic Forum placed 'creativity' third, after 'complex problem solving' and 'critical thinking', in a list of the top-ten attributes required by the job market in 2020. As creative professionals, we recognise the importance of nurturing creativity in young children, particularly in an era when art education in general is under threat."
Over the last 10 years, more than 60,000 visitors have attended in person and over 100,000 interacted with the contemporary arts event online, including around 20 local schools annually, sparking their own creativity.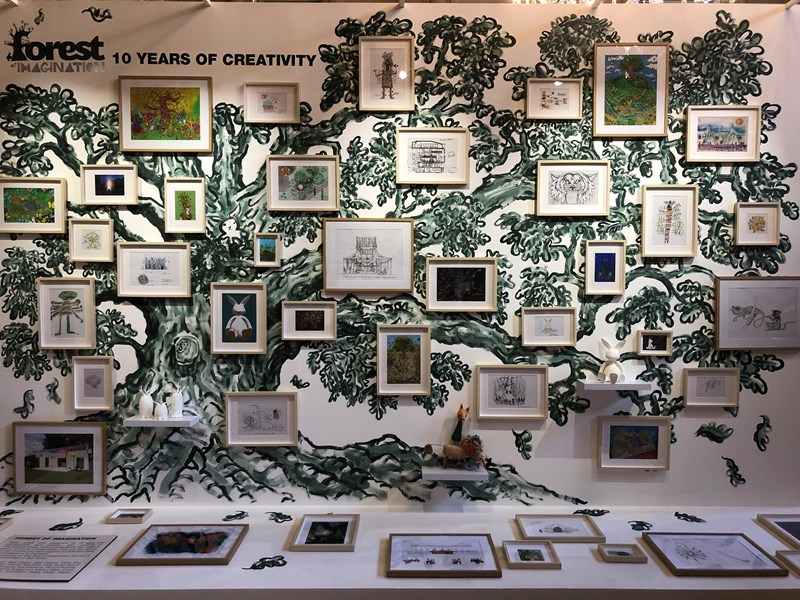 Each year, we make a temporary installation in the city, to host the workshops and activities of the Forest. In creating environments that stimulate creativity, and give children a space to explore, there has also been a fantastic opportunity for those of us in the FCBStudios Bath Studio to flex our creativity.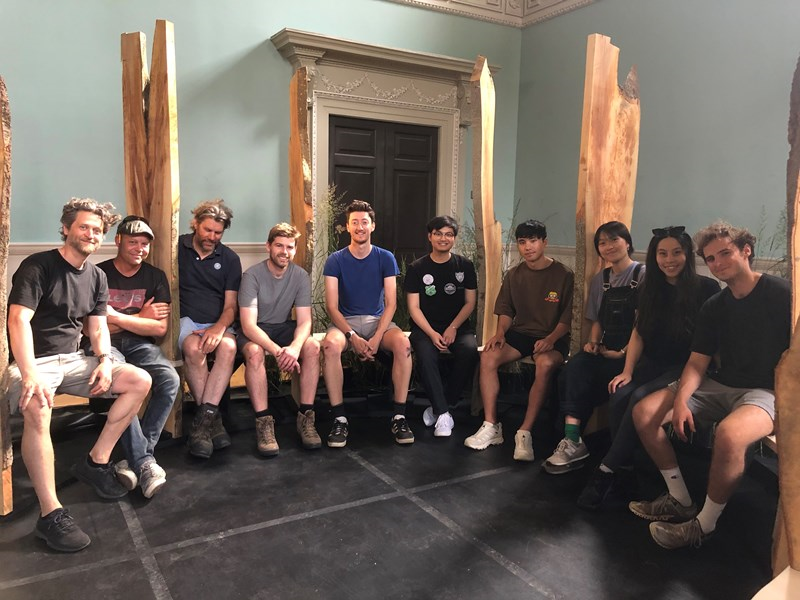 Marcus Rothnie, Partner, has been involved in the Forest since 2017 "We have developed a tradition where our young graduates work on designing and making installations that help inspire the children, as visitors and participants. And they enjoy the challenge of designing and making something that lasts for a long weekend, giving them a break from a design process that can last years, when creating complex buildings."
Some of the architects who have been involved over the years shared accounts of how the festival has made an impact on them:
Luke Mcnab, architect, lead the design and construction of "The Den" in Kingsmead Square, in 2018, "Our proposal for a timber pavilion - imagined as a sheltered space for storytelling - had all the facets of an architectural project, but in small scale form. An initial ideas pitch, attending the regular meetings, sourcing materials and budgeting, setting up the cutting files for the timber parts and leading a construction team. Seeing children explore the books and feel at home in the den was hugely rewarding. "
Carl Woodcraft, architect, echoes this "In 2018, I helped to build Luke's reading den and a series of benches, encouraging people to sit, eat and draw together. It was super fun being outside with a battery drill, assembling things 'on site' and bringing the designs to life! "
Katie Shannon, architectural apprentice, was involved with Forest of Imagination in 2018 for the first time. "It was an eye-opening, inspirational experience – watching young people inhabit the temporary spaces and places we created for the festival was a true joy." This experience encouraged her to lead a project the following year.
"In 2019 I worked with local schools to design furniture from waste. Our goal was to engage children to play an active role in the project by creating the building blocks from their own waste plastic. We held a series of workshops in schools, with scout groups and in the studio to make the Ecobricks. Through our installation, we wanted to change their perceptions of plastic by using its worst attribute – the fact that it lasts forever – as a positive asset, but also with the aim to inspire lasting change in our wasteful shopping habits."
This year's Forest of Imagination has taken over the Georgian Assembly Rooms. Our installation – created in collaboration with artist Andrew Amondson – playfully uses the life of a single mature beech tree as both its inspiration, and raw materials. The 'Wandering Way' is a 'field' of long grass, which sways thanks to a number of 'windmakers' operated by visitors. On the route through the meadow are a series of stories from the imagined inhabitants of the tree, an underground hide, and places to climb, sit, reflect.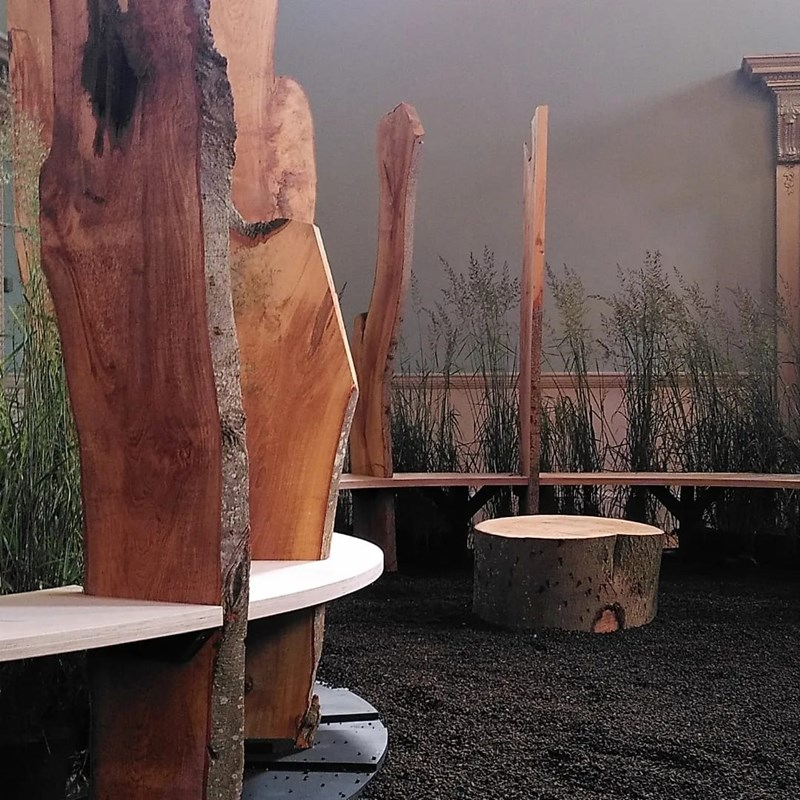 Luke Macnab contributed a concept for a seating area. The Henge is a curving bench made from slices of the ancient beech, that would provide a focus and moment of pause within the room. During the festival, it is being used for workshops and is a magnet for conversation with children climbing on and under it.
After visiting the Forest, architect Tom Fowlie said "Walking into the Assembly Room Ballroom, I was ready for the visual dissonance of the wild grasses and Regency plasterwork (recalling Agnes Dene's Wheatfield) but hadn't anticipated the crunchy, fragrant experience of the cork floor covering and the haunting echoes of a choral singing group at one end. The whole experience was like a dream sequence in the best possible way, augmented by our meandering route into different rooms, not quite sure what to expect next. That experience of the Ballroom will stay with me for a long time."
Myself, I've been taking my children to Forest of Imagination as an annual summer event since 2017. What I see every year – even though they are growing up now – is the sense of adventure they find in the forest – the simple pleasure of experiencing and exploring new spaces and new ways of looking at the world. There is always a moment of unexpected joy. The haptic quality, much like that of being in a real forest, is multisensory, and without instructions or guidance always seems to bring out the curious, playful side of us.
Forest of Imagination reinforces for us the importance and delight of sustainable education, reminds us of the sensitivity of design to nature, and importantly gives our young designers the opportunity to have something they have designed realised, where typical buildings can take years to develop.
Our constructions have ended up recycled, adopted by local primary schools, incorporated into new projects and this year we are similarly planning for the future life of the materials we have used.
We'll see you in the forest again next year!
Images
image 1 Assemble in the Forest, the Wandering Way. Playing hide and seek in the meadow.
image 2 10 years of creative interventions in Bath's cityscape
image 3 This years' Forest of Imagination team.
Image 4 The Henge, part of Wandering Ways, 2023 installation
Carousel
1. During the first Forest of Imagination\, Grant Associates brought an inflatable rabbit\, which has become an unofficial symbol of the festival\, appearing every year.
2. A bamboo space hopper arena was created in Queen Square in 2015
3. 2016's festival was in Abbey Square\, where Grant Associates\, inspired by the forests of Madagascar\, made a forest of inflatable baobab trees and we added portals into a magical world
4&5. In 2017, we teamed up with students at Bath University to do a 'design sprint' to conceptualise and build a series of Houses of Imagination in Bushey Norwood meadows
6. Luke's reading den from 2018
7. 2019 Life\|Line. White Room outlived Forest of the Imagination as a temporary venue in the gardens of the Holbourne Museum for the summer of 2019. Disassembled afterwards\, the 'plastic pavilion' can be reassembled in the future.
8. Katie strength tests the ecobrick benches.
9. 2022\, The Living Forest. Marcus led a collaboration with Mathematician Alf Coles to create a series of mirror mazes.
All images c. Feilden Clegg Bradley Studios
Postscript 10,000 people came to Forest of Imagination in 2023.